Weight Problems...
WEIGHT!! Since when did it become a problem. A tribe in Africe prides themselves on the voluptious women for marriage. The fatter the better...right? For them anyway. But since when did Asians become the culture for stick thin women.
I know I have grown real fat. And I do not deny. Im working slowly on it...with the support of a selected few. What saddens me most is when did one person's weight become the determining factor of who you are? What about the person's character that is so wonderful...or the excellent worker she/he is...or the fact that that person is happy the way she is.
I do not encourage being fat...its not fun...but if you are healthy and are able to walk up 5 floors of stairs and not feel like dying the I guess you are A-OK. You don't have to be a model...just be yourself. Fat can be beautiful tooo...ask those African beauties....they know what they are talking bout....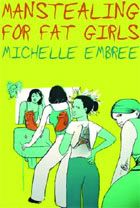 Cool book I think...http://books.monstersandcritics.com/reviews/article_9412.php/Book_Review_Manstealing_for_Fat_Girls_by_Michelle_Embree